Imprisonment of the Plymouth Pilgrim Officers
The following info is from research by Edward Boots & John Ball.

On April 20th, 1864 the entire Union garrison was captured at the Battle of Plymouth, NC. After the battle, the captured "Plymouth Pilgrims" spent the night of the 20th in an open field just outside of the town of Plymouth.
Gen Wessells, his staff, and several other high ranking officers stayed at Plymouth until April 23 when they were taken on the C.S.S. Cotton Plant to Weldon, NC and then by rail to Richmond where they were held in Libby Prison. Among those with General Wessells were: Col. Beach (16th CT), Col. Lehmann (103rd PA), Col. Fardella (85th NY), and several surgeons. The surgeons were soon released as non combatants. Col. Beach was also very quickly exchanged.
During the morning of the 21st, the prisoners received four days rations. Around noon, under guard of the 35th NC, they began their march for Tarboro, NC, stopping at Williamston & Hamilton along their journy.  They were treated well by the 35th NC. Upon arriving at Tarboro, their guards were the 17th NC, and again it was said that they were treated good by them as well.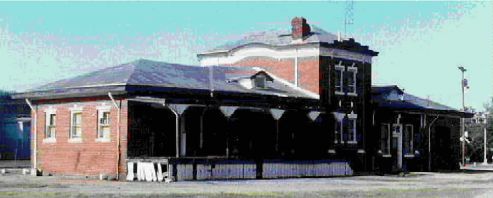 Tarboro, NC Train Station before its destruction in Dec 1996
After arriving at Tarboro, NC, all of the prisoners from Plymouth, including the officers, boarded railroad box-cars for Andersonville, GA. 60 to 70 men were loaded into each boxcar. Lieut. Blakeslee, 16 CT, states that "all the officers and the 85th NY were on the first train", other accounts sound as though some officers were still with their men. According to the diary of Private Charles Lepley, 103rd PA, on April 26th the 85th NY left on the first train at 10 a.m., and the 16th CT and part of the 101st PA left at 3 p.m. There is no mention of other regiments leaving Tarboro except for when he left at 11 a.m. on April 29th.
The trip to Andersonville made its way through the towns of Goldsboro & Wilmington, NC. Then through Florence & Charleston, SC. And finally through Savannah & Macon, GA reaching Andersonville on April 30th & May 1st, 1864.
When they arrived at Andersonville the officers were separated from the enlisted men. The enlisted men were taken directly into the stockade. Capt Wirz, the prison camp commander, argued with the guards who had accompanied the prisoners that he had no facilities for officers and that they would have to take them somewhere else. The officers were held outside Andersonville that night - some in a nearby church. The next morning they were taken to Macon, GA.
Macon (Camp Oglethorpe), GA
This prison, built specifically to house officers, was built on fairgrounds 1/4 mile east of the city. It was not yet completed on May 1, 1864, when the prisoners from Plymouth, NC, arrived. The prisoners were kept in an open field until the stockade was completed.
The prison covered approximately 3 acres and was surrounded by a wall 10 to 12 feet high that had a narrow walkway for guards to patrol. There was a low picket fence inside that acted as a "deadline". Anyone caught between the deadline and the exterior wall was to be shot without warning.
At first, there was one large building that held a small percentage of the population. Later, several smaller barracks were built, but never enough to hold everyone. Prisoners built their own shelters or dug under the buildings for protection from the sun and rain.
Water for the prisoners was supplied by a stream that flowed under the wall, through part of the grounds, and back out under the wall. Although not really sufficient, and soon contaminated, it was probably better than many of the Civil War prisons had.
The prisoners were allowed to buy supplies from civilians who came to the gate if they could afford the prices. In June, 1864, the exchange rate for Confederate money was 1 "greenback" = 4 1/2 Confederate $. A dollar in gold was worth $20 confederate. The price of a gallon of molasses was $25 to $35 confederate. At that time a Union 1 Lt made $113 a month.
Daily rations were minimal, consisting of: 1 pint cornmeal, 2 oz bacon preserved in wood ash instead of salt, 1 oz peas or rice, and 1/2 tsp. salt. Every five days they were also given 1/2 pint of syrup (sorghum) and 1 tbsp. of soft soap. The cornmeal was often baked into loaves called "pones". They simply mixed the meal with water and salt and baked it in a fire for 1/2 hour. As meager as these rations were, as the war continued, these would be considered plentiful.
The men were divided into squads of 100. These squads were divided into 5 "messes" of 20 men each. Rations were distributed through this organization.
Utensils (forks, spoons, and dishes) were very scarce. Men often drew their rations in caps, socks, tied off pants legs, etc.
Each day a few men were escorted outside the prison to obtain firewood. Trash was picked up each day by Negroes who also brought in Macon newspapers. The most accurate war news was brought in by new prisoners.
Illness was a large problem. Diarrhea/dysentery was common and there was no medicine available to treat it. Scurvy was prevalent due to the lack of fresh vegetables. Contagious diseases were sometimes introduced to the prison by newly captured prisoners.
Occasionally, a man would be shot for no apparent reason. No one reported any disciplinary actions taken against a guard for doing this.
Two weeks after the Plymouth prisoners arrived, several dozen officer prisoners from Libby Prison in Virginia were added, bringing the total to approximately 1200 by the end of May, 1864. The prison population peaked at 1600 or over 1700, depending on which source you use.
Gen. Wessells and his staff were sent to Macon on May 12 after a short stay at Danville prison. He was the highest ranking prisoner. Later, Generals Scammon, Shaler, and two others were added. On June 10, the 50 highest ranking officers, down to half the Majors, were transferred to Charleston, SC, to prevent further firing on the city by Gen. Gilmore's Union gunboats. Gen. Wessells was exchanged on Aug 3 1864.
Several escapes were attempted from Macon. A few prisoners sneaked out one night through a hole in the fence where the spring entered the camp area. The last man made a noise that alerted the guards, but they all were successful in evading recapture.
Many tunnels were attempted, but no one succeeded in escaping through them. One tunnel was discovered because the tunnel was so close to the surface of the ground that a grazing cow fell through!
One resourceful officer made his escape by hiding in a sutler's box that had been used to bring supplies into the prison for sale. Another officer, described as a "young officer from Massachusetts" tried impersonating a guard, but was unsuccessful because his shirt was too clean!
As Sherman approached on his "march to the sea", the Confederates decided to move the prisoners to preclude their liberation. Three groups of prisoners, totaling 600 men, were sent to Savannah on the morning of July 28 and the dawn of July 29.
Many of the prisoners made saws from knives with the idea of sawing through the floorboards of the boxcars. The first group made plans to overpower the guards and make a mass escape. When the time came though, enthusiasm disappeared and no escape resulted.
Savannah (Camp Davidson), GA
This prison began on the grounds of the U.S. Marine Hospital with a stockade surrounding the area. Another stockade was erected around the City Jail.
The conditions, ground, and rations were better than at Macon. Most were housed in tents adjacent to the hospital. Medical care was much better. Unfortunately, the water smelled of sulfur. This was not unique to the prison - much of the well water in the city smelled the same way.
Daily rations here consisted of: 1 qt cornmeal, 1 pt of rice, 1 lb beef(!), 1 tspn salt, 1 tspn vinegar, and 1 piece of hard soap. Occasionally, salt pork was substituted for the beef.
The prisoners formed into small cliques and tended to stay by themselves. Savannah newspapers were usually available. By September, the exchange rate of Confederate dollars to greenbacks was up to 10 :1.
The guards discovered several partially completed tunnels. Several successful escapes were made.
Prisoners were incensed to see slaves, men and women, forced to dig a new sink (latrine). Several were so light colored that they were nearly Caucasian.
Charleston, SC
On Sept 13, the prisoners were transferred to Charleston, SC, where they were held in hospital areas, such as Roper and Marine Hospitals, the Workhouse, and the Charleston City Jailyard. The enlisted Plymouth Pilgrims were also in the city at that time at the Charleston Race-Course. Several officers managed to visit them and items were sent to them through the Sisters of Mercy. They were appalled by the condition of their friends after only four months! Many gave them whatever money and food they could spare. The stay in Charleston was short due to an outbreak of yellow fever - even among the guards.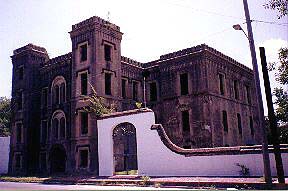 Charleston City Jail as seen today.
Columbia (Camp Sorghum), SC
Prisoners arrived from Charleston, SC, on Oct 5 ,1864. It was essentially an open field with little shelter. Treatment was quite severe, including several prisoners killed for no reason.
Morale of the guards was very low. More prisoners (about 400) escaped from this prison than any other officer prison in the war. There might have been more but, by this time, some prisoners had no shoes or boots. About 2/3 of those escaping were recaptured. Most headed for the North Carolina woods, some planned to meet Union troops, and a few went toward the eastern shore to hail blockade ships. Reports state the prisoners were all helped by Negro slaves.
Here, as in some other prisons, a presidential election was held among the prisoners. At this camp, the vote count was: Lincoln 1024, McClellan 145.
On Dec 2, the prisoners were marched across town to an insane asylum. Before they left the camp, they set fire to the brush huts they had built for shelter.
1st Lieut., James B. Kirk, 101st PA- letter to the National Tribune: 05 NOV 1891 - "Treatment of Prisoners"
Columbia (Camp Asylum), SC
The asylum yard was divided by a 10 ft high wooden fence to separate the prisoners from the inmates. Tunneling was begun immediately.
Mail from home was a little more frequent here than at the previous prisons. Letters were delivered at Macon 2 - 3 times, never at Savannah, and 6 - 8 times at Columbia. Fewer letters sent ever reached home. The guards often took the stamps and didn't send the letters.
The exchange rate by this time had reached 1 greenback = $15-20 Confederate.
On Feb 15, 1865, the first prisoners were sent to Charlotte, NC, supposedly to be exchanged, but few men expected it to be true. Many planned to escape from the train during the night, but there was a severe rain and sleet storm. A few decided to try but were recaptured the next day.
Charlotte, NC
On Feb 16, more prisoners arrived after narrowly missing a railroad accident. The guards by this time were very demoralized. They didn't prevent escapes very well - at least 100 slipped away. Those prisoners still at Charlotte began leaving Feb 19 to be exchanged.
Summary
Certainly it appears the officers had better conditions in prison than the enlisted men. All things are relative however. Being "better than Andersonville" is hardly a description of luxury. Their prisons were crowded and had little shelter. Disease was rampant and there was little food. There were instances of prisoners being shot for no apparent reason. These were certainly difficult times.
Morale among the guards was very low. They were easily bribed. One night at Columbia, three guards left with the escaping prisoners! The system set up to recapture escapees was quite effective, however. One educated estimate placed the success rate of escapees at approximately 10%.