24th Independent Battery New York Light Artillery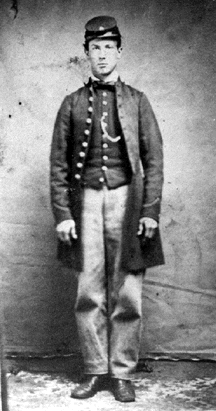 George Birdsall
The following history is posted by Conrad Bush, 24th NY Independent Battery Historian for the Civil War Plymouth Pilgrims Descendants Society. He would certainly be interested in receiving copies of soldier's records, letters, diaries, photos or family information and grave location to create the most complete database on these soldiers. Any additions, corrections or comments concerning this homepage should be directed to Edward Boots.
History Of the Battery
The following information was taken from Phisterer's New York in The War of the Rebellion 1861-1865, Third Edition, 1909, published by J. B. Lyon Company, State Printers, 1912, Albany, NY, pgs 1612-1613:
This battery, originally Battery B, Rocket Battalion of Artillery, became the 24th Battery November 1, 1862; the order making the change was, however, not approved until February 11, 1863. It was recruited principally in the counties of Monroe and Wyoming, and at Perry; organized at Buffalo, its organization completed at Albany; and there mustered in the service of the United States for three years December 7, 1861. At the expiration of its term of service, the men entitled thereto were mustered out and the battery retained in service. It left the State December 9, 1861; under Capt. J. E. Lee, and served at Washington, D.C., from December, 1861; in North Carolina, from April 23, 1862; in the 3d Brigade, 5th Division, 18th Corps, from December, 1862; in the district of Albemarle, N.C. , from May, 1863; at Plymouth, N.C., from January, 1864; and in the district of North Carolina, Department of Virginia and North Carolina, from May, 1864; and March 8, 1865, it was transferred to the 3d Artillery as Battery L of the same, but did not join the regiment until may 28, 1865, when it war service had closed.
It lost by death, killed in action, 1 enlisted man; of wounds received in action 2 enlisted men; of disease and other causes, 85 enlisted men; total 88; of whom 67 died in the hands of the enemy; and it, or portions of it, took part in the following engagements, etc.;
Dates & Casualties
1862
Near Young's Cross Roads, N.C. July 27
Expedition from New Berne to Goldsboro, N.C. Dec 11-20
Kinston 14
South West Creek 14
Whitehall Bridge 16 (1 enlisted man killed - Private Robert Turner)
Goldsboro 17
1863
New Berne, N.C. March 14
Williamston, N.C. July 27
Chowan, N.C. 28
1864
Plymouth, N.C. April 17-20 (2 enlisted men killed; 5 wounded; Missing In Action: 2 officers 113 enlisted - of this total 67 enlisted men died in Confederate prisons.)
Officers of the Battery:
Captains:
Jay E. Lee, from December 7, 1861, to June 13, 1863.
A. Lester Cady, from June 13, 1863, to January 13, 1865.
William W. Crooker, from January 28 to May 28, 1865.
First Lieutenants:
A. Lester Cady, from October 26, 1861, to June 13, 1863.
George S. Hastings, from September 4, 1862, to December 28, 1864.
Frederick E. Hastings, from June 13, 1863, to January 21, 1864.
William S. Camp, from February 6, to May 29, 1865.
Second Lieutenants:
A. Lester Cady, October 26, 1861.
George W. Graham, from December 7, 1861, to December 23, 1862.
Frederick E. Hastings, from June 2, 1862, to June 13, 1863.
Edward H. Dolbeer, from June 13, 1863, to January 21, 1864.
Lucius S. Newcomb, from January 28 to May 28, 1865.
---
Where The Men Came From:
The following locations were taken from enlistment locations, as provided by the New York State Adjutant General in his Regimental Register for the 24th New York Independent Battery. The actual community the man came from may not be represented as recruits tended to migrate to a recruiting area that had the highest bounty or provided a particular regiment they were interested in joining. The bulk of the men came from the New York counties of Wyoming, Monroe & Livingston.
New York State:
Albany County: Albany
Allegany County: Angelica, Wellsville
Brooklyn: Brooklyn
Columbia County: Copake, Hillsdale
Essex County: Crown Point, Ticonderoga
Erie County: Buffalo
Fulton County: Johnstown
Genesee County: LeRoy
Livingston County: Avon, Leicester, Mount Morris, West Sparta
Monroe County: Clarkson, Hamlin, Rochester
Montgomery County: Fort Plain
New York City: New York City
Niagara County: Royalton
Ontario County: East Bloomfield, Seneca
Oneida County: New Hartford
Orleans County: Albion
Warren County: Hague
Westchester: Tarrytown
Wyoming County: Castile, Gainesville, Perry, Warsaw, China (now Arcade, NY)
Out of state recruits from:
Plymouth, Washington County, North Carolina (colored cooks)
Washington, D.C.